Nachdem Parken auf dem Grundstück gelangen Sie über einen Weg ohne Stufen in die Diele der Ferienwohnung. Die Ferienwohnung hat einen eigenen Hauseingang.

After parking on the property you will reach the apartment without any steps along the way.
Diele ca 14 m² /

Floorboard about 14 m²

 Ausstattung: Garderobe, Spiegel, Sitzbank, Rollstuhl Stellplatz, 16 A Lade-Dose für Elektrorollstuhl Anrichte (div. Landkarten , Malzeug, Schreibzeug, mobiler Hausnotruf, Bücher, Spiele ..) ,die Treppe zum Dachgeschoss wird nicht benutzt.

Furnishing: wardrobe, mirror, bench, wheel chair parking lot, 16 A loading tin for electric wheel chair, sideboard (various maps, writing utensils, medical alarm phone, books, games)

Wandschrank(Staubsauger,Besen…), Rollstuhl Stellplatz,  E-Bike Ladestation, mit 16 A Lade-Dose für Elektrorollstuhl ( CEE – Schuko- 230V),

Closet (vacuum cleaner, broom…) wheel chair parking lo
t, E-Bike Ladestation, with

16 A loading tin for electric wheel chair (CEE- Schuko-230V)
Wohn/Esszimmer   ca.20 m² /

Living and dining room 20 m²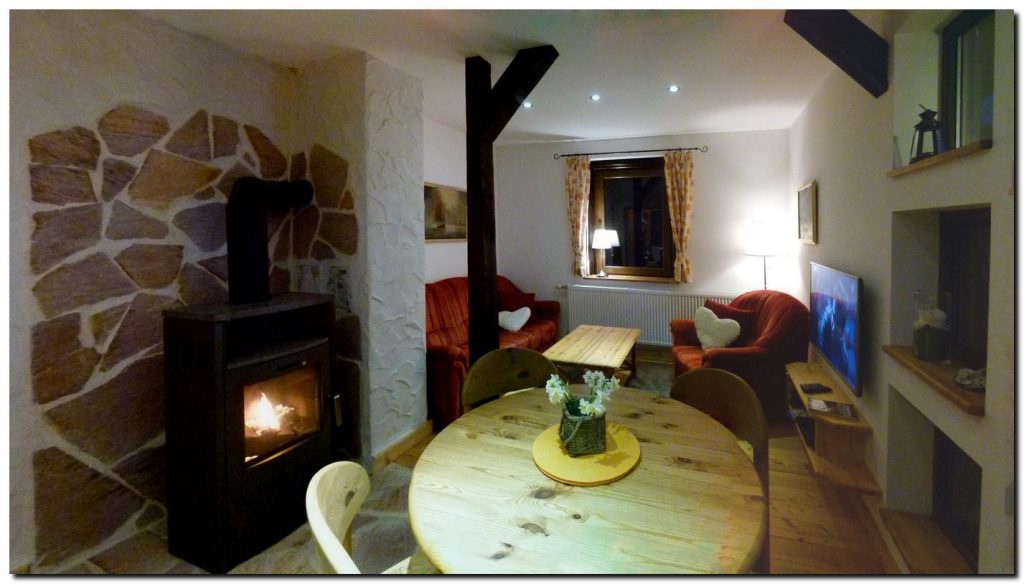 Ausstattung:Kaminofen, 3 Sitzer Couch, 1 Sessel, Couchtisch

Furnishing: chimney stove, couch for 3 persons, 1 armchair, coffee table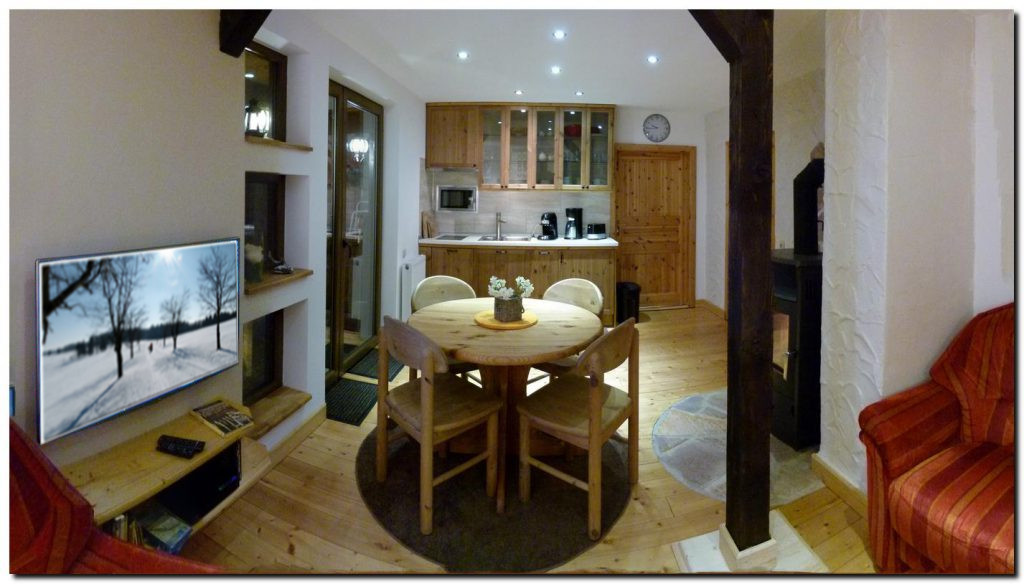 LED TV (SAT-Empfang),Internet W-LAN,  Blu Ray-Player (div DVD, Blu Ray),Esstisch (ausziehbar 4 bzw. 6 Stühle)
LED TV (SAT receipt),Internet WIFI, Blu-ray player (various DVD's and Blu-rays), dining table (extendable 4 or 6 chairs)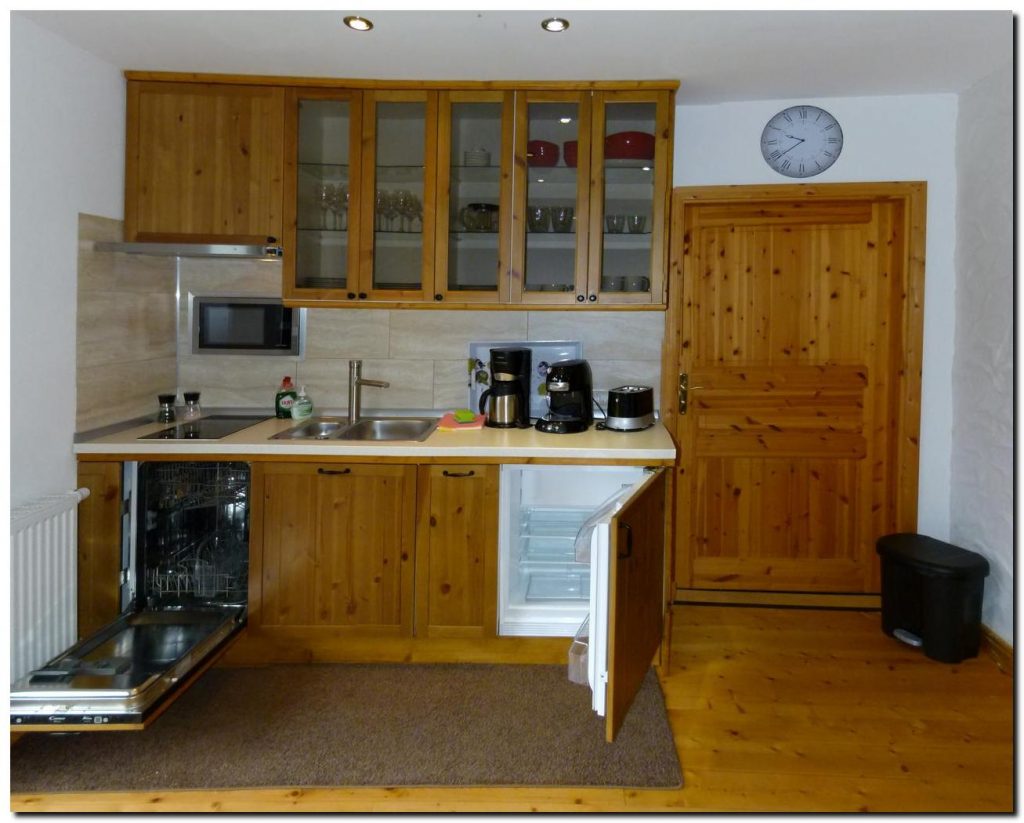 Küchenzeile: Induktionskochfeld, Ablufthaube, Geschirrspüler, Spülbecken H&K Wasser , Filter-und Pad- Kaffeemaschine, Mikrowelle mit Umluft und Grill, Korkenzieher, Grillzange…
6 teilig: Rot-, Weiß-, All-, Besteck, Teller,Tassen…
Kitchenette: Induction hob, used air hood, dishwasher, sink with hot and cold water, coffee machine (for filters and pads), Convection microwave oven and grill, corkscrew, barbecue tongs…
6-part: red, white, all, cutlery, plates, cups… 
Bad ca.10 m² /

Bathroom ca 10 m²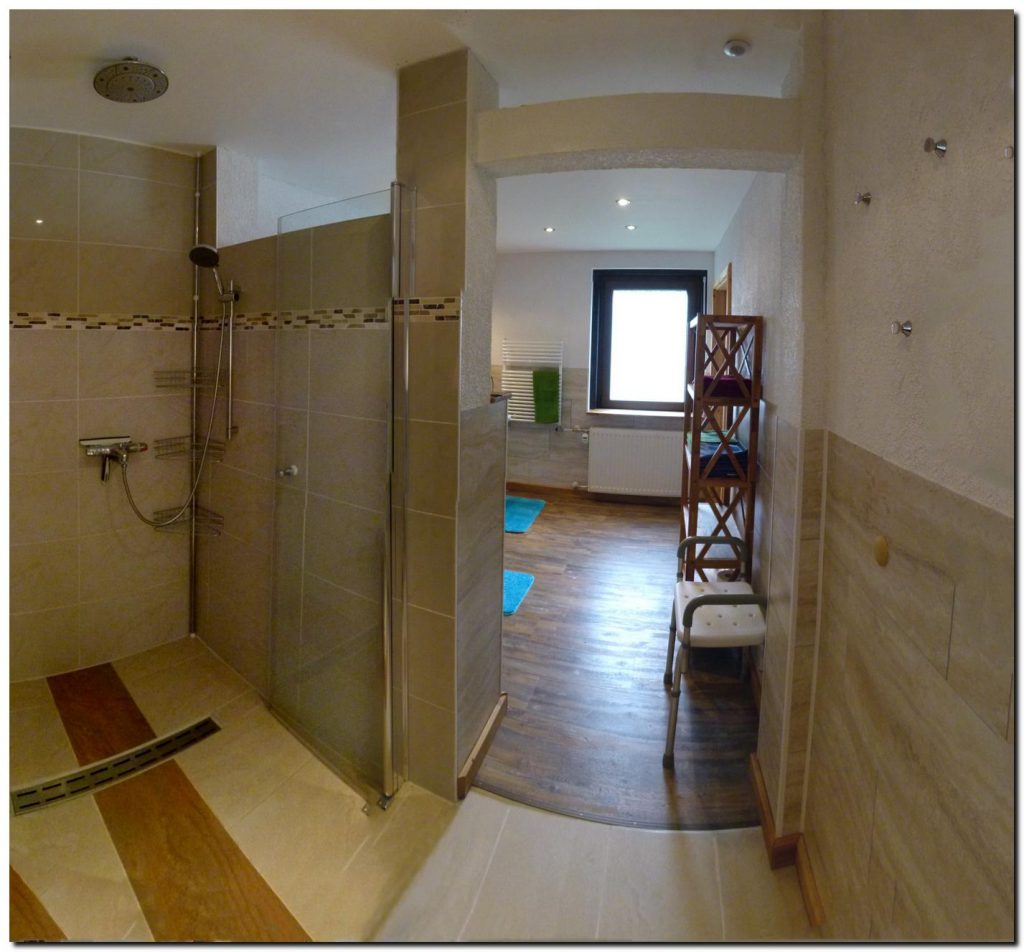 Ausstattung: Regendusche & Brausedusche ebenerdig 1,20m x 1,20m, Waschbecken unterfahrbar mit Sensoramatur, Spiegel, Rasierspiegel, Fön,

Equipment: rain shower& usual shower ground leveled 1,20m x 1,20m, wheelchair accessible wash basin & sensor tap,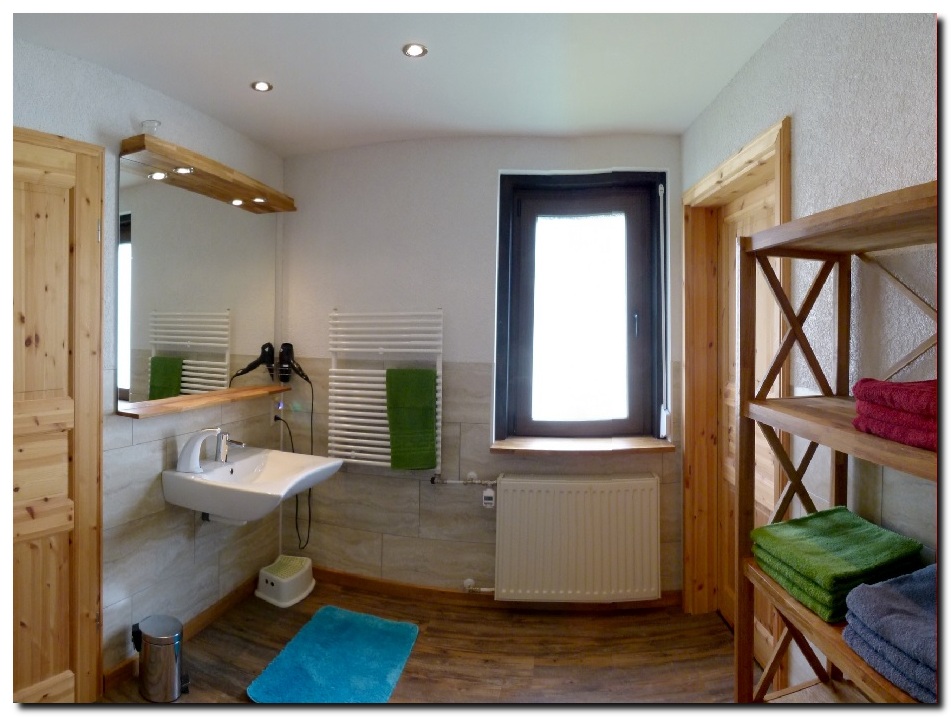 Toilettenbecken behindertengerecht mit Stützgriff, Regalschrank, Duschvorleger,
p. P. 1 xDuschtuch + 2xHandtücher , Shampoon, div. Hygieneartikel…
mirror, hairdryer, handicapped accessible toilet with support arm, shelve cupboard, bathmat,

p.P 1x shower and 2 towels tucher
 
Schlafzimmer I ca.13 m² /

Bedroom I ca 13 m²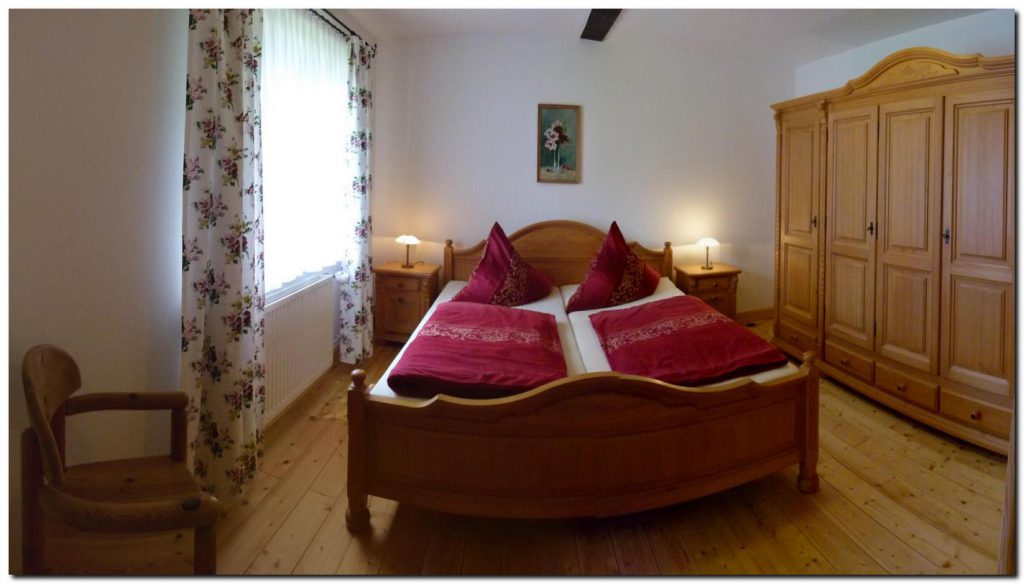 Ausstattung: Doppelbett ( 7 Zonen Kaltschaum 1,80m x 2,00m),2x Nachtisch mit Leuchten, 5 türiger Kleiderschrank, 1 Stuhl.
 Furnishing: double bed (7 zones cold foam mattress 1,80m x 2,00m), 2 bedside tables with lamps, five-door wardrobe, 1 chair.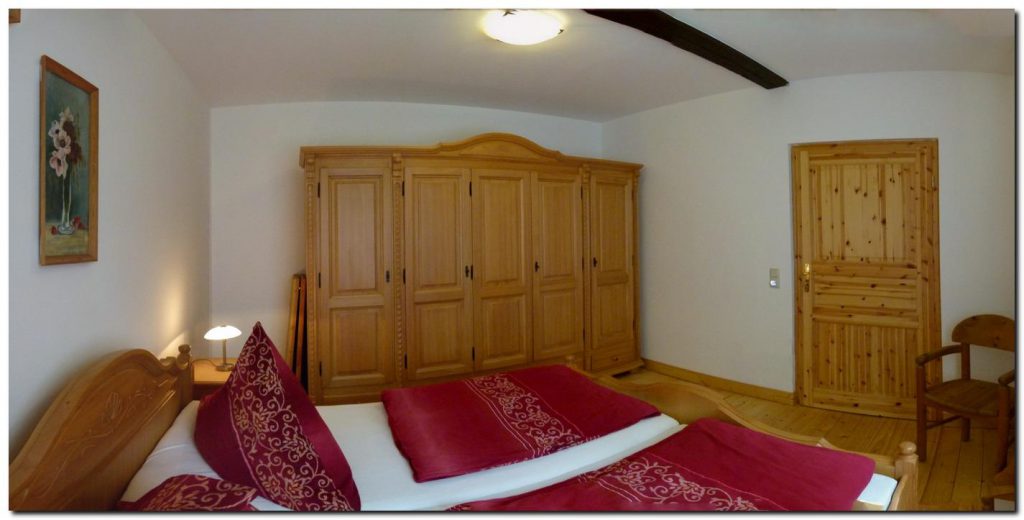 Schlafzimmer II  ca.11 m²

  /

Bedroom II ca 11 m²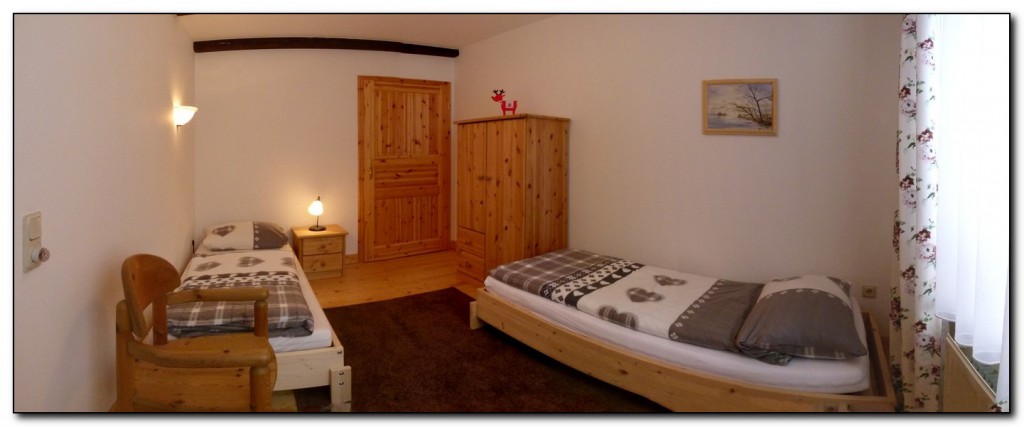 Ausstattung: 2 türiger Kleiderschrank ; 1 Bett   2,00 m x 0,80 m ,Nachttisch Schreibtisch mit Stuhl
Oder: 2 Betten 2,00 m x 0,80 m, Nachttisch mit Leuchten.
Furnishing: two-door wardrobe; 1 bed 2,00m x 0,80m, bedside table, desk with chair
Or: 2 beds 2,00m x 0,80m, bedside table with lamp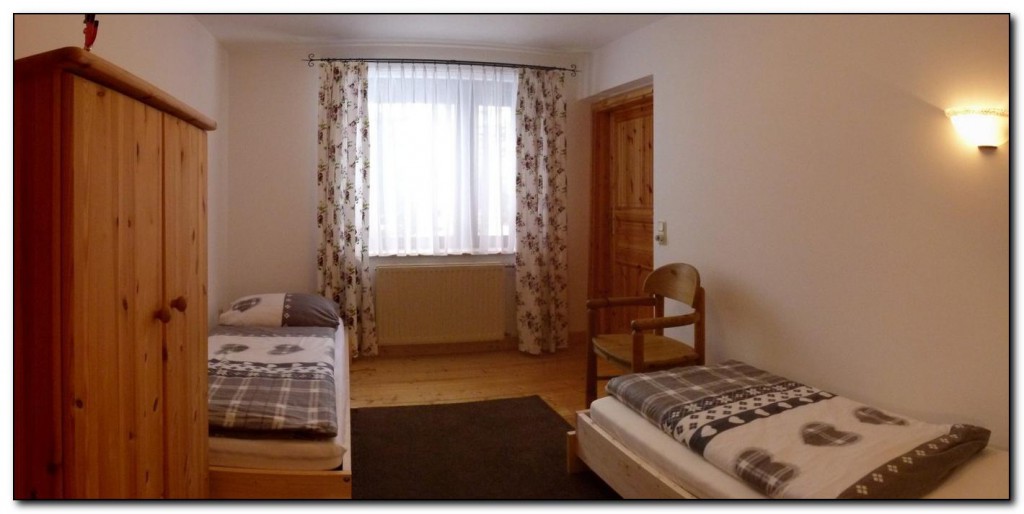 Werte Gäste, wir möchten sie darauf aufmerksam machen in unserer Ferienwohnung nicht zu rauchen oder Haustiere zu halten.

Dear guests, we would like to point out that smoking and keeping pets are  not welcome in our holiday apartment.
Vielen Dank für ihr Verständnis.
Thank you for your understanding.